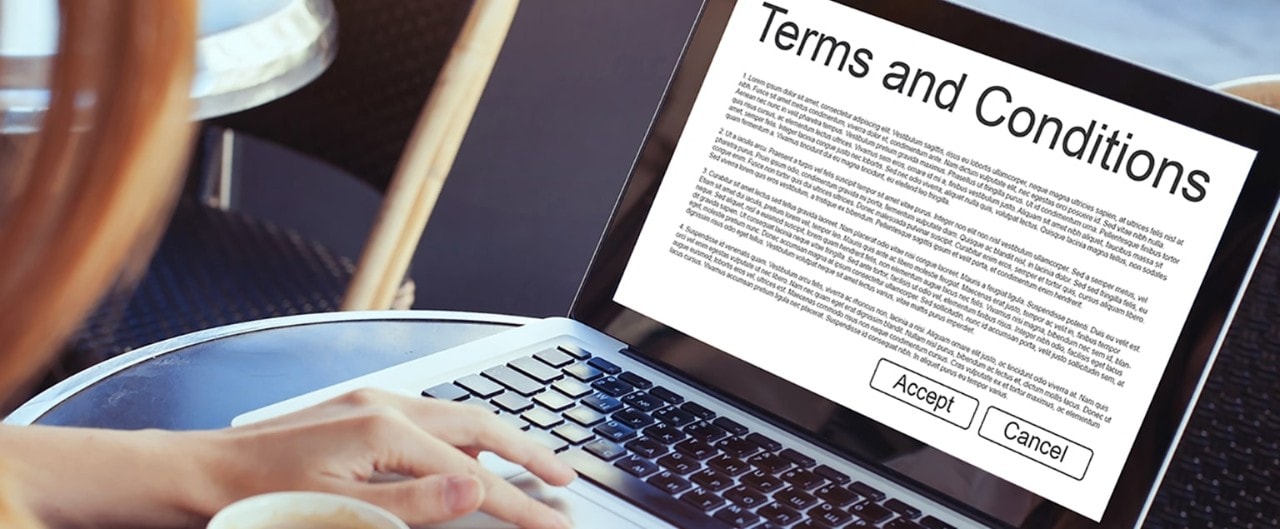 Creating a terms and conditions checklist
Terms and conditions are essential for every business so customers' rights and obligations are clear. Many businesses print their terms on the back of invoices and quotations, attach them to sales documents or have customers sign or agree to terms online before purchase.
Terms and conditions should be inclusive enough to protect your interests when you sell your goods or services, but not so densely packed with legal jargon to be off-putting to customers.
Your terms also need to be competitive. All things being equal, customers might otherwise be tempted to switch to suppliers with less restrictive terms. Focus on being both clear and fair as your aim should always be to build long-term relationships with customers.
Speak with your industry association
Some industries have standard or very similar terms and conditions. This means you could approach your industry association or professional body for a sample of the standard terms widely used in your industry.
If you can get hold of a typical set of terms and conditions, you can use them as a template or starting point for your own terms. However, don't assume that the terms and conditions will automatically suit your business. You may need to add extra clauses to cover important gaps.
An internet search will also throw up a range of templates you could adapt for your own use.
Our terms and conditions checklist
Here are some of the issues that may need to be covered. Not all may be relevant to your business but work through them and remember it's important to get your terms vetted by a solicitor or accountant, to ensure you've covered all the important bases.
Clarify your terms
Define important terms used in your document clearly such as contract, buyer, seller, products and services so there is no confusion.
Get customer acceptance
Clarify when you'll regard the order as confirmed. This could be when the customer signs acceptance of your quotation or contract but could also be when you start receiving instructions from the customer. Make it clear that the buyer's acceptance of your quotation or contract also makes your terms and conditions definitive and binding.
Changes to orders
Alterations to an order before it's delivered can be very costly. Changes along the way are common in project work such as construction or software development and can add both delays and significant extra costs.
Make it clear that customers will be responsible for any additional costs caused by their desired changes. For example, a printer follows a standard practice of getting the customer to sign acceptance of final proofs of letterheads, business cards and other business stationery. Any later changes are billed to the customer.
Payment options and expectations
Clarify when payment is expected (such as within 7 or 30 days of the invoice) along with other payment terms. Consider giving customers a variety of ways to pay, such as by check, cash, online, ACH or credit card. Specify any extra charges that might apply to any of these payment methods.
A timeline for delivery
The quote, order or tender should include a timeline for delivery. If no time is stated, then note that payment is due on delivery of the order, unless credit terms have been agreed.
Overdue penalties
If you intend to charge interest on late payments, make this clear in advance in your terms and conditions and get the customer's signed acceptance beforehand.
Identify ownership
Speak to your lawyer about the terms you can use to identify ownership of the goods or services until final payment is made, so you retain the ownership until the customer has paid.
Dispute resolution
It can be important to specify an impartial arbitrator in case of disputes and clarify whose jurisdiction will apply.
Intellectual property ownership
If the goods or services you're supplying include an intellectual property (IP) component, define who will own the IP. For example, you may want to retain ownership of copyright texts or software coding. This can be an issue when you're licensing your goods or services rather than selling them outright.
Warranties and guarantees
Explain what any warranties or guarantees will cover (such as defects or time limits) and what's excluded, such as misuse of a product or unauthorized repairs. Make it clear if you'll supply a completely new replacement or repair the product or service. If any shipping costs are involved (such as returning a product to your premises), specify who'll bear the costs. Note any policy you have on returning goods.
Shipping and insurance
Exports and long-distance deliveries need clarity regarding who's responsible for shipping costs and insurance for goods in transit.
Limiting your liability
Consider a clause limiting your liability for any loss, damage or injury caused by your goods or services. Acceptance of your terms by the customer should mean your business is indemnified against claims or lawsuits. Keep in mind that the purpose of the terms and conditions for customers is to eliminate any misunderstanding about the relationship, thereby allowing both parties to make the right decisions.
Summary
Creating the right terms and conditions for your business will make sure you don't face costly, stressful, and time-consuming problems down the road. Get legal advice to make sure all your bases are covered and that your business is protected in every way it needs to be. Remember: it's easier to prevent fires than it is to fight them.