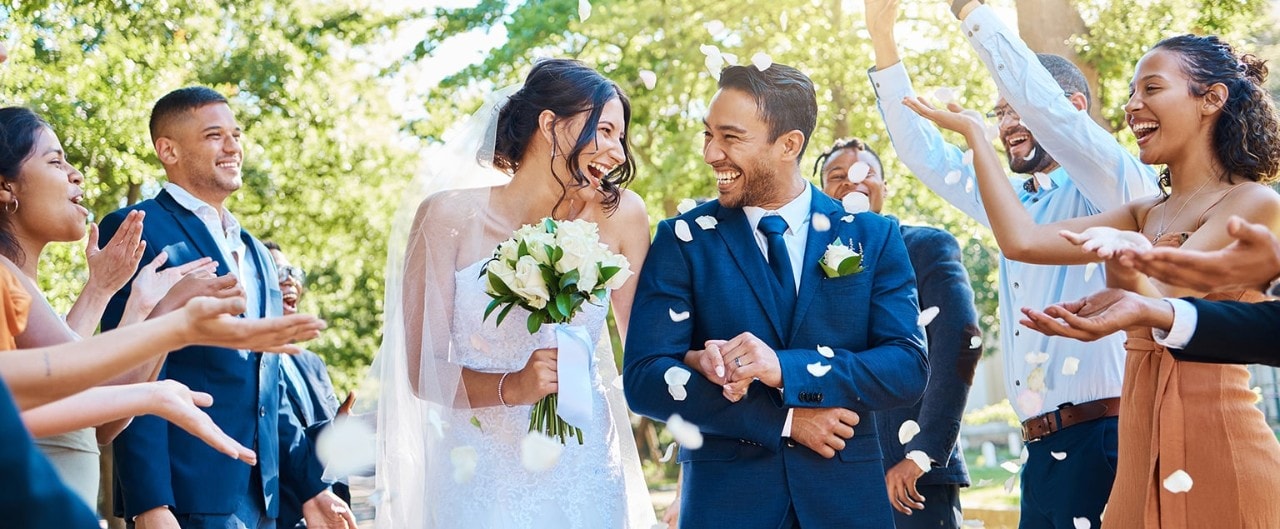 combining finances when you get married: a how-to guide
Different approaches, and a step-by-step process, to marrying money
For many young couples, the ability to share a bathroom is proof that a marriage will work. But sharing their finances – that will ensure the marriage will work even better.
Married couples who pool all their money "experience greater relationship satisfaction" and are less likely to split, the American Psychology Association reports. This effect is especially strong among couples with fewer financial resources.1
If you're among the 2.24 million couples planning to marry in 2023,2 your shared finances may be taking a back seat to the guest list. We encourage you to move them to the front seat and budget time to decide how to manage your money as a married couple. Here's a how-to guide.
Mine, yours, ours
Most wedded couples share at least some financial accounts – 77%, according to Bankrate. Of them, 43% combine all their accounts, keeping nothing separate.3 In either approach, marital experts urge couples to talk about money before approaching the altar. We see it as a three-point conversation.
First, talking means planning. Get to know each other's spending habits and agree on guidelines for how to budget as a couple. It may help to talk to close acquaintances for tips, as well as a financial advisor. As part of this process, you also should determine longer-term savings goals.
Assign responsibilities for each shared account and schedule regular balance checks for accountability. Agree to consult each other about unplanned spending. This exercise is especially important early in the marriage when each partner is adjusting to sharing money.
Finally, adhere to a budget to prevent missteps. A range of apps can help with bill reminders and transaction alerts, including Honeydue and Goodbudget. And First Financial's free money-management tool, Insights, provides a centralized view of all financial accounts – from any institution.
Combining your money: a checklist
Once you've set a mutual financial foundation, you can prepare to merge accounts. Here is a checklist of what you will need to do.
Pick your institution.
If you and your partner hold accounts with different banks, compare the benefits and options of each – not just for savings and checking accounts, but for future needs such as investments and mortgage lending. Choose the one that best suits your married goals.
Meet the financial "in-laws."
If moving one spouse's finances to the other's bank, the money will have to be transferred. Expect to visit the selected bank, with identification, to make the transfer and add the spouse as an account holder. If you're combining accounts at the same bank, you'll still need to come with identification in order to close one account and shift the funds.
Send "married account" announcements.
Contact all entities that have access to the closing accounts, including employers that make auto deposits and utilities that make debits. Remember subscriptions, such as video streaming services.
Set a transfer "honeymoon period."
Your accounts will require some time to process pending payments, so add a calendar cushion. Also, ask how long your money transfer will take from one account to another.4
Honor the rules!
Adhere to the budgeting and maintenance guidelines you set together, and do not secretly spend (unless it's for a gift).
3 nest egg notes
A note on separate accounts
It's normal to want to keep some money in a personal account while still holding a joint checking account to cover shared expenses such as the mortgage, groceries, and utilities. A portion of each paycheck could be automatically deposited into that account.5
A note on combining debt
Any debt, including credit card debt, will remain separate after marriage; the same goes for credit scores. Spouses only share debt if they apply for a loan or credit card together.6
A note on retirement savings
Individual retirement accounts, including 401(k)s, cannot be jointly owned. Each spouse can, however, name the other as a beneficiary to the account.7
Sharing finances may be easier than sharing a bathroom
Whether you and a partner "discuss" keeping the toilet seat down or who is going to pay the electric bill, the key to harmony is a sound understanding of your together goals. Plan for them, keeping in mind that your financial accounts could expand to include investments and mortgages.
Above all, resist the urge to just merge your money "like everyone else does." Because everyone, and every couple, is unique.
If you're seeking advice about combining assets and financial planning as a couple, the experts at our Yellow Cardinal Advisory Group can get you started – even if you're first-time savers. Visit Yellow Cardinal here.